Electrical Services and Power Saving Solutions for a sustainable future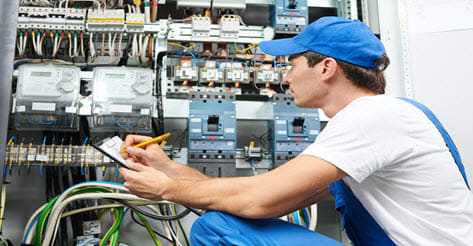 Electrical Services and Power Saving Solutions for a sustainable future.
Top Electrical Maintenance Services
If you need top end electrical maintenance and support in Melbourne and its suburbs, Brighten Services should be your first choice. We have the required professional expertise to offer electrical contracting services around the clock and are reputed for immediately responding to emergency calls and delivering quality results every time. At Brighten Services our experience and training has taught us that a regularly maintained and tested electrical systems and appliances experience fewer faults and are less dangerous to operators and anyone working in the vicinity.
All our technicians are well trained to provide comprehensive electrical services in both commercial establishments and residential settings. We can quickly and effectively carry out electrical repairs and maintenance in any premises irrespective of its size or complexity of the existing circuitry. You can depend on us for delivering consistent results every time.
Our range of Services:
Emergency lighting and exit signage audits
Commercial shop fit-out
Uninterruptable Power Supply (UPS) systems
Lighting maintenance, diffuser cleaning & replacement( includes: lamps, starters & tubes)safety switch and RCD testing
Smoke detector testing and replacement
Appliance/Industry Test and Tagging
Infra Red (IR) and thermal testing of switchboards to meet building, insurance and fire codes.
For further details give us a call now.
Electrical Testing & Tagging
In addition to our very specialised and customised commercial-cleaning, aged care facilities cleaning, carpet cleaning, flood restoration services and builders cleaning services the team at Brighten Services proudly offer unmatched electrical services including detailed testing and tagging. To discuss your needs and requirements with our dedicated team please feel free to contact us today.